Welcome to Our 8th Grade Homeroom!
Hello my name is Melissa Schiffbauer and I am thrilled to serve as the 8th grade homeroom teacher! I believe that teaching is not just a career, but rather a lifestyle. I believe I was placed on this earth to teach. I try to incorporate good citizenship, kindness, and humility in all that I do both in and out of the classroom setting. I hold my students to a high academic standard. I do not take the responsibility that comes with being a teacher lightly. I look back over my childhood up until this point, and I can see what an impact my teachers have had on me. Because of this, I believe in getting to know my students beyond the school realm. I value discovering things such as what kids enjoy doing for fun and what their favorite foods are. I want them to view me as a positive role model in their lives. My favorite Bible verse is Isaiah 43:2 which says that even when we go through trials, God is there for us. I turn to Jesus as the ultimate teacher and example for my instruction of young people. I often reflect on Ellen White's book True Education where it mentions the tremendous responsibility and dedication God asks of His educators. I know I would not be as effective of a teacher if I did not have the Holy Spirit by my side each day as I lead a lesson!
I am a recent graduate from Southern Adventist University where I earned my Bachelor's degree in Elementary Education. I am endorsed in Bible and Science up to 10th grade. I worked for a year as a veterinary tech assistant, allowing me to learn a lot about biology and animal behavior.I have over 5 years of childcare experience including working at summer camp, tutoring, and working as an aftercare school director.
CURRICULUM
Goals & Standards:
Each science and math lesson taught in my class is built on an Academic Standard, Big Idea, and Essential Question.
○ Academic Standards- these are standards set by the state of Georgia as well as the North American Division of Seventh-Day Adventists. Educational standards are the learning goals for what students should know and be able to do at each grade level. Georgia State Standards may be viewed here: https://bit.ly/1RClrzn NAD Standards may be viewed here: http://adventisteducation.org/est.html
○ Big Idea- The "Big Idea" may also be called the unit plan. A unit consists of many lessons and will be taught for a longer period, for example, a semester or quarter. Planning a unit is also a longer process compared to planning a lesson. A unit is
based on a group of academic standards that have some sort of correlation to one another and are taught in cohesion.
○ Essential Question- In educational terms, an "essential question" is a question that drives the lesson being taught. When creating a lesson plan, the teacher should base the lesson on essential questions, which are based on concepts that students should understand by the time they complete the unit.
Strategies
Pre-Assessment- Within the first week of school every student will participate in a pre-assessment testing session. This test is a placement test allowing teachers, parents, and students to recognize what capabilities the student has in math. Pre-assessment testing is provided through the school textbook. For more information or to make accommodations for struggling learners please contact the teacher

Journaling- Students will have a personal journal for both math and science class. This journal will be used for self-reflection, class notes, and as a study guide for tests and projects.

Graphic Organizers- A graphic organizer, also known as knowledge map, concept map, story map, cognitive organizer, advance organizer, or concept diagram, is a communication tool that uses visual symbols to express knowledge, concepts, thoughts,
or ideas, and the relationships between them. The main purpose of a graphic organizer is to provide a visual aid to facilitate learning and instruction.
IXL- IXL is a web-based math practice site for students in Pre-K through 8th grade. IXL tracks a student's personal progress by asking various mathematical questions based on state standards. A copy of a students' progress is available to the teacher and parents upon request. IXL also generates awards for student progress which motivates further achievement and independent math discovery.

Math Centers- Math Centers provide an opportunity for students to practice and apply skills and strategies taught within the classroom. While students are engaged in purposeful centers, teachers have the opportunity to work individually or with small, flexible groups to meet the individual needs of students.

Projects- Projects are a form of formal assessment to monitor a student's knowledge on a topic being covered. Projects are graded based on a rubric. For access to this rubric (math or science) please contact your teacher.

Class Discussion- Participation in class discussion is a VITAL part of a student's learning process. The purpose of classroom discussion is to enable the teacher to pull the content dictated by the curriculum out of the class by imposing a limited discussion-like format.

Labs- A science lab activity is something that involves learning material in a hands-on and kinesthetic way. Students will perform kid-friendly science experiments and fill out a lab study sheet. The scientific method will be studied and used. Labs may involve: liquids, chemicals, plants, and/or animals. Safety precautions may be found here: https://www.cfisd.net/files/1713/9276/1340/6th20Grade20Safety20Guide.pdf

Other strategies include- group work, homework, in-class assignments, manipulatives, videos, and powerpoint presentations.
DAILY SCHEDULE
Monday Tuesday Wednesday Thursday
8:00-8:20 AM Worship Worship Worship Worship
8:25-9:55 AM 8th Math &
Science
6th & 7th Math & Science
5th Math & Science
8th Math & Science
10:00-11:30 AM 5th Math &
Science
8th Math & Science
6th & 7th Math & Science
5th Math & Science
11:35-12:10 PM Lunch/PE/Study
Hall (gym)
Lunch/PE/Study Hall (gym)
Lunch/PE/Study Hall (gym)
Lunch/PE/Study Hall (gym)
12:15-12:50 PM Lunch/PE/Study
Hall (gym)
Lunch/PE/Study Hall (gym)
Lunch/PE/Study Hall (gym)
Lunch/PE/Study Hall (gym)
12:55-2:25 PM 6th & 7th Math &
Science
5th Math & Science
8th Math & Science
6th & 7th Math & Science
2:30-3:25 PM Drama Club Planning Period Drama Club Planning Period
3:30 PM Dismissal Dismissal Dismissal Dismissal
Friday
8:00- 8:25 AM Worship
8:30-9:30 AM Chapel
9:35-10:30 AM 6th & 7th Math & Science
10:35-11:30 AM 8th Math & Science
11:35-12:40 PM Lunch
12:45-1:40 PM 5th Math & Science
1:45-2:25 PM Study Hall
2:30 PM Dismissal
Duluth Adventist Christian School 2019 – 2020 Middle School Supply List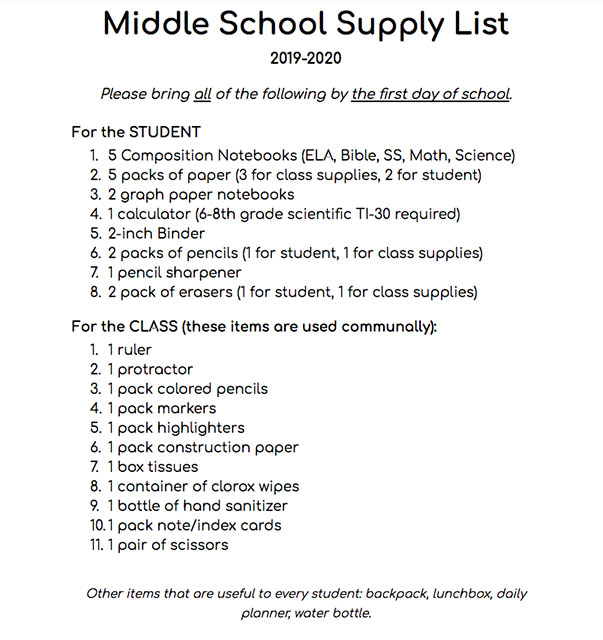 GO Math!- GO Math! provides a seamless path to ensure that students can access content at appropriate levels of depth and rigor. A wealth of resources for the classroom and beyond provide the tools students need to embrace math and succeed in high-stakes assessments. Go Math! Is Common Core Standards Based.

Big Ideas Math- Big Ideas Math is the only complete middle school math program developed with the Common Core Standards for Mathematical Content and Standards for Mathematical Practice as its foundation. It is the only program to offer both the Regular Pathway and the Compacted Pathway through middle school mathematics.

ByDesign Science- ByDesign is built on a foundation of inquiry that encourages wonderment, questioning, collaboration, and exploration of multiple resources to conduct research and investigations. ByDesign is based in the NAD SDA Standards which provides science instruction from a creationist perspective.
Contact us today to get your child enrolled!
Become A Part of the Duluth Adventist Christian School.