Welcome to Our 4th Grade!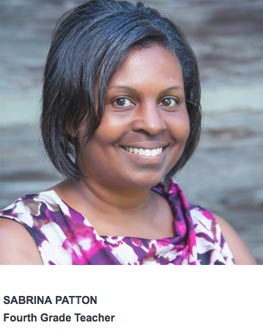 Fabulous in Fourth… where we leave a little sparkle wherever we go! In fourth grade we will take a deeper dive into curriculum, discover new strategies and topics. As a class, we will learn to work and collaborate together and become LEADERS as we implement our Seven Habits of Happy Kids! As a teacher I endeavor to partner with my parents and foster an environment that provides our scholars with a nurturing yet challenging educational curriculum and culture that ensures academic success. I look forward to an exciting and productive school year!
CURRICULUM
Go Math! is a comprehensive Grade K-6 mathematics program developed to support the Common Core State Standards for Mathematics and the NCTM Curriculum Focal Points.  The program emphasizes Essential Questions and Big Ideas with depth of understanding as the goal.  Interactive lessons utilize research based instructional approaches and differentiated instructional resources to ensure success for all students.
---
ELA: Pathways– Restoring the image of God within each student is the ultimate goal of Seventh-day Adventist education, including its language arts program. Pathways: A Journey to Excellence through Literacy is based on a balanced approach focusing on individual student needs combined with effective practices. Current research in theories and principles of language arts (reading, writing, handwriting, and spelling) form the basis for these effective practices. Writing Workshop gives the students a planned time to creatively express themselves through the writing process. Mini-lessons are conducted on various topics as needed with small groups or the whole class. Teacher-student and student-student conferences help the writing progress to a finished product.
Writing workshop includes three basic components: mini lessons, writing and conferencing, sharing.
---
Science: God designed His children to wonder, question, and learn about their environment. In the Garden of Eden, Adam and Eve were encouraged to explore and share what they had learned with God and the angels (White, 1903). This type of learning was also encouraged in the schools of the prophets (White, 1913). ByDesign is built on a foundation of inquiry that encourages wonderment, questioning, exploration of multiple resources to conduct research and investigations (i.e., textbooks, informational books, articles, websites, pictures, observations, hands-on activities, etc.), and collaboration. In general, "inquiry is a way of looking at the world, a questioning stance we take when we seek to learn something we don't yet know. And when we are truly inquiring about that something, whatever it may be, we drive ourselves to learn more and more because we are seeking answers to our own questions" (Parker, 2007)
---
Social Studies: Our Country and Its Regions- Students learn about how people, places and events have shaped our Nation. Unit 1 and Unit 2 focus on the development of the United States and its growing government and economy.  Units 3-7 each focus on a specific region of the United States: the Northeast, the Southeast, the Midwest, the Southwest, and the West, and how the resources and economy of the region affect the growing Nation. Map and globe skills are addressed in grade 4. Students interact with elevation maps, use road maps, and compare maps at different scales. Math connections are built into the grade 4 text with opportunities to interact with timelines, charts, and graphs.
Resources
DAILY SCHEDULE
FULL DAY
Mondays through Thursdays 8:00 a.m. – 2:45 p.m.
(Extended day activities 2:45 – 3:45 p.m.)
Fridays – 8:00 a.m. – 2:25p.m.
CLASSROOM NEWS & EVENTS
Duluth Adventist Christian School 2019 – 2020 4th Grade Classroom Supply List.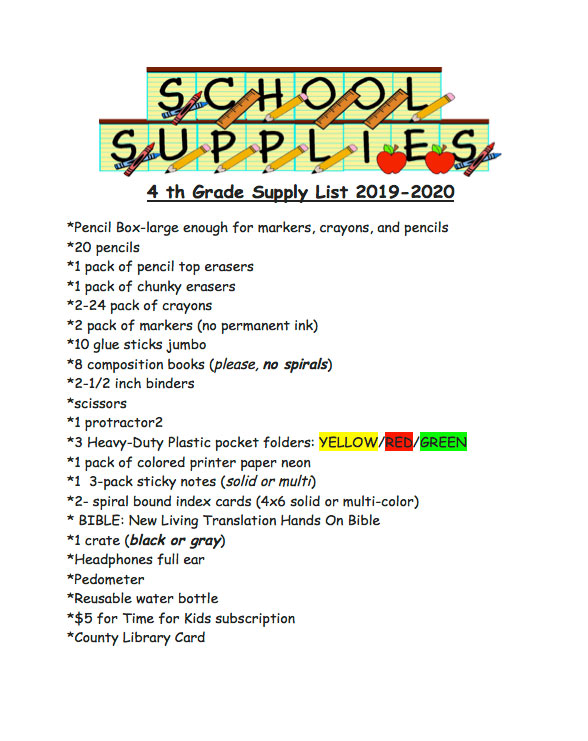 Contact us today to get your child enrolled!
Become A Part of the Duluth Adventist Christian School.